Upcoming Seminar:

Covid: A case for research exceptionalism?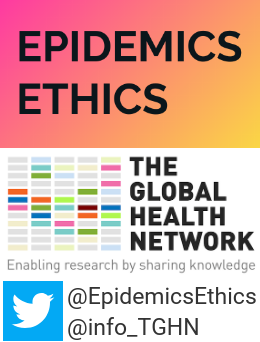 The current COVID-19 pandemic has reignited calls to amend, adapt and short-cut the research design process. But does the current pandemic and the need for an urgent response necessitate that we rethink our current research models? What can we learn from the discussions that have occurred in and following past outbreaks on appropriate research design, especially the 2014-15 Ebola outbreak? Does there necessarily need to be a trade-off between scientific rigour and speed? What role can ethicists play in supporting the global research community to undertake scientifically and ethically robust research in this current pandemic?
Chair: Gagandeep Kang, Executive Director, Translational Health Science and Technology Institute of India and member of the steering committee of the COVID-19 Clinical Research Coalition
Speakers:
Clement Adebamowo, Professor, Department of Epidemiology and Public Health; Member, Institute of Human Virology, Center for Vaccine Development and Global Health, and Center for Research in Aging Associate Director (Population Science), Marlene and Stewart Greenebaum Comprehensive Cancer Center Director, Global Health Cancer Research, University of Maryland School of Medicine

Alex John London, PhD Clara L. West Professor of Ethics and Philosophy, Director, Center for Ethics and Policy, Carnegie Mellon University

Katharine Wright, Assistant Director of the Nuffield Council on Bioethics
Please note that this seminar is limited to 500 participants. The seminar will be live streamed to The Global Health Network's Facebook page and the recording will be available in the following days.
* Most recent seminars *




Click here to view this seminar in full screen.

Ethicists advising public health authorities: opportunities and challenges

27/07/2020

The COVID-19 pandemic has raised a number of distinctive and profound ethical challenges. It is therefore unsurprising that public health authorities have turned to ethicists for advice when developing and implementing policies and measures in their pandemic response. This has created many opportunities for ethicists to enhance the moral quality of public health decision-making; however, it has also raised a number of challenges, both substantive and procedural. This seminar presents the experiences and perspectives of ethicists who have played key roles in advising public health authorities in four countries during the COVID-19 pandemic.

An Epidemic of Research: publication ethics during a public health emergency

29/06/2020

The urgency and global nature of the COVID-19 pandemic has resulted in health research being undertaken at an unprecedented scale. This has been accompanied by a race to disseminate, share and publish data and findings, which in turn has led to retractions, questionable peer review, and pre-publication peer review via twitter, resulting in confusion amongst researchers, regulators, and the public. What has this meant for credibility of science and trust in the scientific enterprise? What are the real costs here? How can publishing models accommodate our need for urgency, research integrity and trustworthiness when they're needed most?





Click here to view this seminar in full screen.





Click here to view this seminar in full screen.

Beyond 'good enough': How to engage communities with COVID-19 research quickly and effectively

15/06/2020

Response to COVID-19 requires rapid research to develop vaccines, treatments and other kinds of urgently needed knowledge. Previous public health emergencies have demonstrated that good community engagement helps move research forward, ensures it is feasible, relevant, and accepted, and that its findings are taken up. But how can it be done quickly, and in the midst of lockdowns? On this webinar we will explore these questions, and hear from the experts how to bring Good Participatory Practices to COVID-19 research.


Digital Technologies and their Ethical Application during the COVID-19 Pandemic

01 June 2020

Digital technologies, including those that utilize artificial intelligence, are increasingly being used to aid COVID-19 surveillance and response efforts. While these digital technologies, such as digital proximity tracking technologies, will undoubtedly play an important role, their use raises important ethical and governance concerns. This webinar will discuss the use of digital technologies, the ethical and human rights implications of their use, and possible ways forward in implementing such technologies in a manner that upholds and promotes key ethical norms.





Click here to view this seminar in full screen.





Click here to view this seminar in full screen.

COVID-19 Human Challenge Studies:

Is it OK for research participants to volunteer to be infected?

18 May 2020

As widespread use of safe and efficacious vaccines for COVID-19 could save many lives and enable governments to ease restrictive control measures, there is an urgent ethical imperative for well-designed and carefully conducted research to develop such vaccines and increase relevant scientific knowledge regarding SARS-CoV-2. Controlled human infection studies, also known as human challenge studies, have been proposed as one means of testing the many vaccine candidates for SARS-CoV-2. While this has attracted considerable attention with wide calls for COVID-19 challenge studies, the research community is divided over their ethical acceptability.


COVID-19 Immunity Passports: Inevitable? Ethical?

04 May 2020

Assuming that recovery from COVID-19 brings a measure of immunity, some have proposed that the detection of antibodies to the SARS-CoV-2 virus could serve as the basis for an 'immunity passport' that would enable individuals to travel or to return to work. While health officials and scientists continue to review the evidence on antibody responses to SARS-CoV-2 infection, critical ethical questions related to stigma, health inequities, and the evidential basis for the use of immunity passports must be addressed.





Click here to view this seminar in full screen.





Click here to view this seminar in full screen.


Why should ethics be front and centre to the response to COVID-19. Is it?

20 April 2020

This is the first online seminar from PHEPREN (Public Health Emergency Preparedness and Response Ethics Network), the newly launched global community of bioethicists, established to provide real-time, trusted, contextual support to communities, policy makers, researchers, and responders in relation to the ethical issues arising out of global health emergencies.