This is the first online seminar from PHEPREN (Public Health Emergency Preparedness and Response Ethics Network), the newly launched global community of bioethicists, established to provide real-time, trusted, contextual support to communities, policy makers, researchers, and responders in relation to the ethical issues arising out of global health emergencies.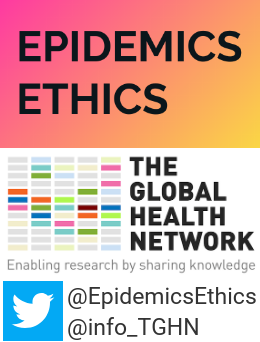 Chair: Professor Mike Parker
Director of the Wellcome Centre for Ethics and Humanities and the Ethox Centre, University of Oxford

Katherine Littler
Co-Lead, Global Health Ethics & Governance Unit, World Health Organization, Geneva

Professor Emily Chan
Professor and Assistant Dean (Development), Faculty of Medicine, Chinese University of Hong Kong

Professor Jerome Singh
Head of Ethics and Law at the Centre for the AIDS Programme of Research in South Africa (CAPRISA)

Professor Ross Upshur
Head, Division of Clinical Public Health at the Dalla Lana School of Public Health, Toronto, Canada
Please note that we can host a limited number of 500 attendees. We will be streaming the webinar live on our Facebook page so in case of a full attendance follow us here.